About Us
Turbine Services is a global maintenance services provider to owners and operators of gas turbines, offering an employee skill base in excess of 2,000 man-years experience delivering gas turbine maintenance solutions. With our heritage in John Brown Engineering, our primary specialization is in the heavy duty range of General Electric designed gas turbines.
Our business is founded on the strength of our technical and engineering capability, reinforced by our commitment to quality and customer satisfaction that is demonstrated by our accreditations (ISO 9001:2008) and registrations (Achilles, Supply Line and FPAL).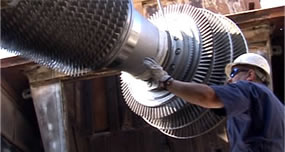 High Tech Capabilities
In addition to our extensive experience, our customers also benefit from the high-tech capabilities of our parent company, Chromalloy. Leading the industry in advanced technology derived from 50 years of aero and industrial gas turbine component experience, we offer state-of-the-art component; repair, coating and manufacturing technologies.