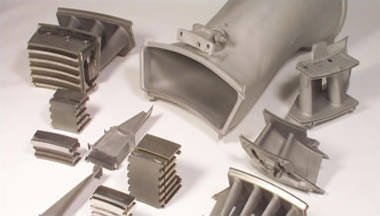 Gas Turbine Spares & Replacement Parts
Turbine Services maintains a substantial computerised inventory of spare parts for the General Electric design of heavy duty gas turbine equipment, and also other OEM turbine manufacturers.
Our parts inventory is continually monitored to ensure that the customer requirements are satisfied ex-stock for both scheduled and unscheduled maintenance.

Spare Parts
MS3002
MS5002
MS5001
MS6001
MS7001
MS9001
Engineered non-OEM Components
Our new component parts offerings are developed, managed and monitored within Turbine Services and our related Chromalloy divisions. Our advanced reverse engineering programs utilize the latest technology in: finite element analysis, high resolution scanning technologies, Equiax, DS and Single crystal castings, machining, ECM, laser drilling and protective coatings. Critical hot section parts are redesigned with original OEM integrity as well as the addition of design modifications based on component condition from service.
Logistics
Turbine Services work closely with our customers to develop new supply chain solutions. We also offer a variety of material support systems including:
Logistics management
Full warranties
Regional stockholding
Emergency service
Installation service
Component exchange
Parts repair
Scheduled just-in-time inventory
Consignment stocks
Long term service agreements