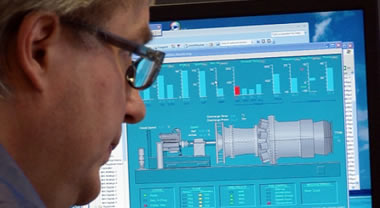 Condition Monitoring for Gas & Steam Turbines
TIGER® continuously evaluates the condition of your turbine by automating the knowledge of the best turbine engineers. The software builds up a complete picture of the turbine in the last shift, day, or week providing a simple-to-read diagnostic summary.
TIGER® provides performance and maintenance calculations along with archiving and graphing facilities which enable the analysis of trends and incidents in detail and the data replay feature allows examination of historical events just as they occurred. TIGER® also allows your colleagues to connect remotely to assist you in the smooth and efficient running of your turbine and will alert you when you have a problem.
System Features
Sophisticated diagnostics
Patented temporal pattern matching of faults
Performance models
Factored hours and starts calculations
Vibration diagnostics and display
Comprehensive graphing
Replaying of data
Remote access
Automated reports
Email and SMS notifications
User Benefits
Detect the first symptoms of a developing problem
Troubleshoot and bring the turbine back quickly
Enable condition-based maintenance
Identity operational and warranty issues
Assess insurance risk
Assist in commissioning
24-hour remote monitoring
Reduce travel – diagnose problems from your laptop
Pool expertise-your engineers contribute remotely
Reduce costs-increase availability