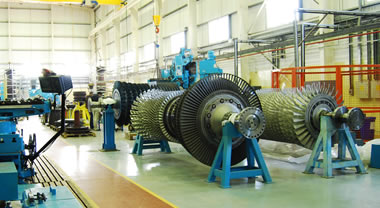 Gas Turbine Rotor Overhaul services
Turbine Services offers complete gas turbine compressor rotor and power section overhauls for heavy duty gas turbines. Staffed and resourced by customer-focused engineers with over 2,000 man years of gas turbine experience, customers can benefit from a comprehensive quality service. All rotors are returned to a fully refurbished condition with minimal turnaround time.
Gas Turbine Rotor Overhaul
Turbine Services offers a competitive alternative for gas turbine owners and operators in the overhaul of rotors. Dedicated rotor overhaul engineers offering knowledgeable advice, experience of commercial operation, and an ex-stock supply of necessary components and rotating parts, ensure a committed response in returning users equipment to commercial operation as fast as possible with appropriate documentation and reports.
Pre–stripdown balance and inspection
Rotor disassembly
NDT facilities
Individual blade and wheel coating
Latest coating technologies
Individual wheel balancing
Rotor re-blade
Rotor reassembly
Rotor balance and run-outs
Rotor storage containers
Comprehensive customer reports
Customers can also take advantage of Turbine Services rotor exchange programme. We always have available sufficient new or refurbished components to assemble turbine and compressor rotors at short notice. Customers are invited to benefit from this service. For cost-effective maintenance, customers may consider exchanging their operating rotor for a previously overhauled fully refurbished rotor which can be pre-delivered to site awaiting the next overhaul commencement.