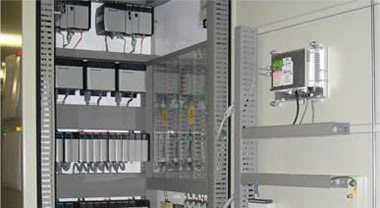 Advanced Gas Turbine Control Systems
Advanced gas turbine control systems were designed specifically for the retrofit of heavy duty gas turbine controls; in particular, the Speedtronic and LA families of turbine controllers.
It is a competitive alternative solution for the replacement of older control technology. The turbine control philosophy of the original system is maintained and it is easily adapted to site-specific requirements.
System Features
PLC system architecture
Hot backup PLC redundancy
Fuel governor
Auto synchronisation & power monitor
Gas turbine protection
Automatic start-up, auxiliaries sequencing
Combustion monitor
User Benefits
Minimise GT downtime
Increase availability and reliability
Readily available spares-worldwide support
SCADA interface, all parameters visible to operator
Ease of maintenance/set up
Networking capability
Easy access and export of GT data
Non-dependence on OEM spares (Speedtronic cards)
Buy-back of existing control systems option (e.g. Mk I – Mk IV)